Best Bed Frames Sold By Walmart
Updated: Sep 9th, 2020
Check out our review of the best Walmart bed frames perfect for supporting your bed all night long.
After purchasing a mattress, you'll need a supportive bed frame. That's why we reviewed the 5 best Walmart bed frames so you can easily choose your favorite.
Let's get started.
Walmart Metal Bed Frame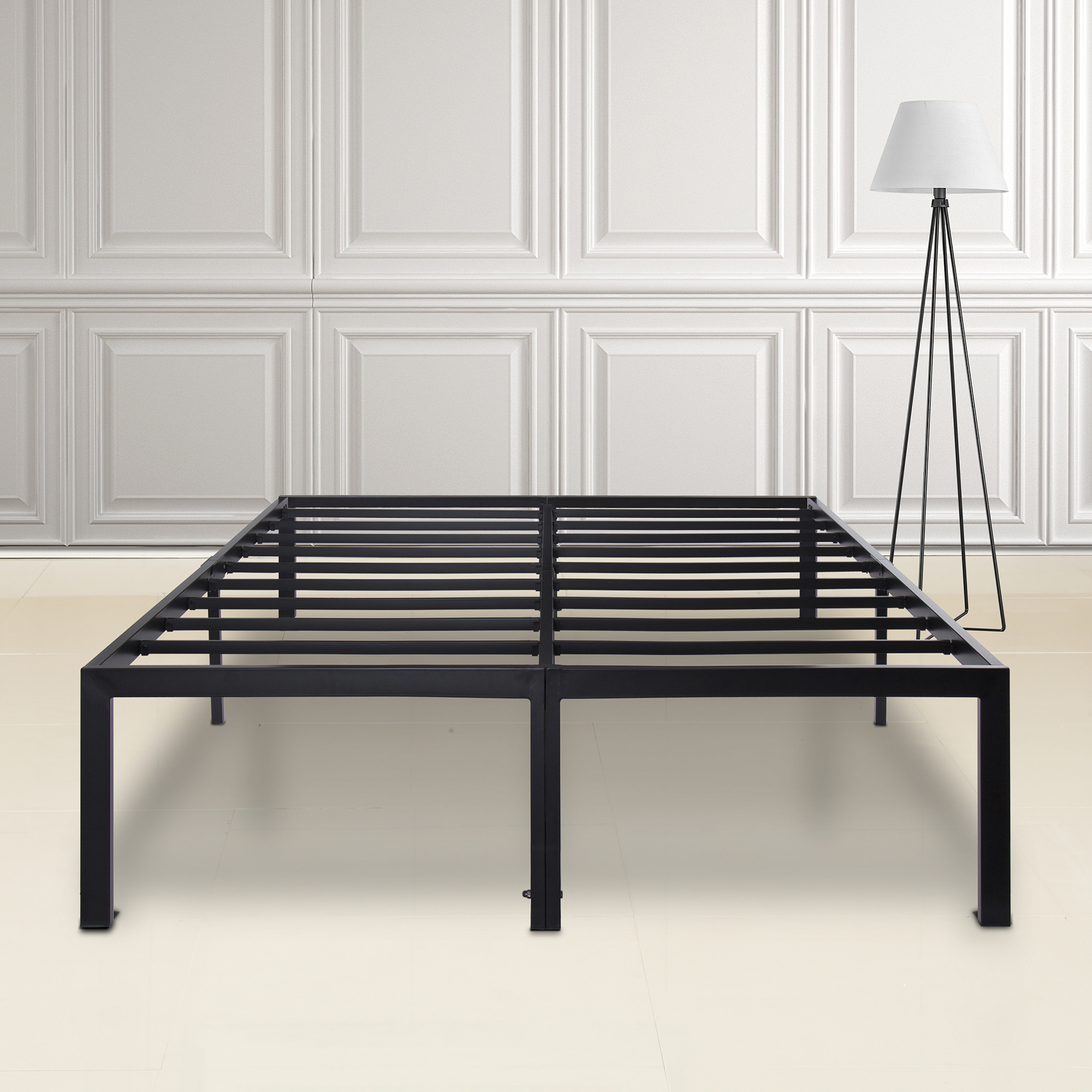 People who are searching high and low for budget-friendly bed frames may want to look into the GranRest Dura Metal Bed Frame option. This bed frame can be ideal for people who are interested in craftsmanship and affordability at the same time.
Customers praise this simplistic bed frame for an abundance of reasons. Assembling it is a walk in the park.
It has a streamlined ergonometric design that's easy on the eyes. Other features that are part of this bed frame are soundproofing, floor protectors and even storage space below.
Users have the option to connect headboards to these frames as they please. This frame consists of a tough metal that's not prone to fast wear and tear.
Reviews of this affordable metal bed frame are overwhelmingly positive. Some users, however, indicate that the assembly instructions are confusing and therefore difficult to follow. They indicate that the parts don't have labels.
Size
This is a 14 inch bed frame that can accommodate upward of 1,200 pounds total.
Pros
Simple design
Very easy to assemble
Ergonometric design
Storage space
Made with strong metal
Cons
Some users say the assembly instructions are difficult to follow
The parts aren't labeled in the instructions
---
Walmart Platform Bed Frame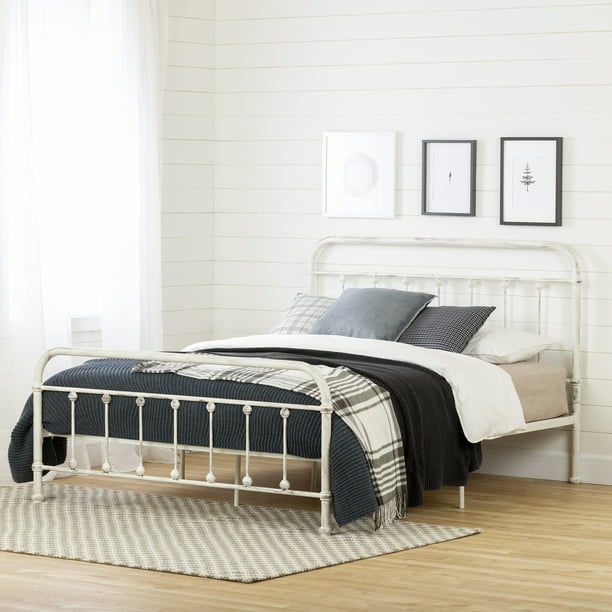 This is a chic metal bed frame that has admirers in droves. It has a pleasant Country Cottage ambiance that can blend in nicely in all kinds of interior design schemes. Box springs are not necessary for people who purchase this product.
This popular product has a fashionable look and therefore can blend in seamlessly in all kinds of bedroom design setups. It has a simplistic look that won't clash with many furniture pieces, decorative elements or anything else. Keeping this bed clean is simple.
People can do so with the assistance of moist cloths alone. It abides by any safety regulations that are in place in the United States. Its packaging is both certified and reviewed.
Some users expressed that the slats have rather feeble appearances. Other users indicated that assembling this product is rather cumbersome.
Size
Once this bed is fully assembled, it has dimensions of 84 inches by 64.50 inches by 45.25 inches. It weighs 59 pounds. It can accommodate a maximum of 500 pounds total.
Pros
Simplistic design won't clash with other furniture pieces
Keeping this bed frame clean is easy
Only weighs 59 pounds
It has a weight limit of 500 pounds
Certified and reviewed
Cons
Users have said the slats appear weak
---
Walmart Wood Bed Frame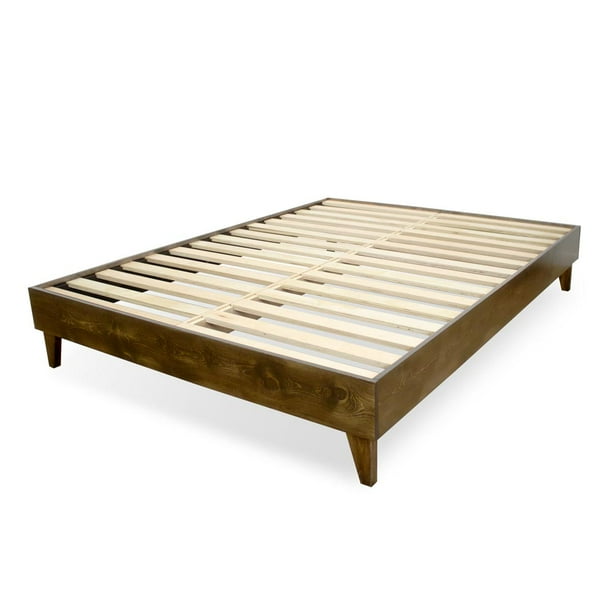 People who are trying to find luxurious bed frames may want to opt for this solid North American pine offering. It's a bed frame that can infuse sleeping spaces with refined sophistication.
This tough wood bed frame is simple to set up correctly. Setting it up doesn't require a significant time commitment, either. It doesn't even take five full minutes. It has powerful slats that fully eliminate the need for box springs. It comes equipped with any tools that are essential for setup purposes.
People who are searching for bed frames that are silent and peaceful may want to reconsider this one. That's because there are quite a few users who mention that it makes persistent high-pitched sounds. They mention that the sounds tend to intensify as well.
Size Options
This frame is accessible in six different size groups. The smallest size is twin. The largest size is California king. The twin option is 76.5 inches by 40.75 inches by 13.5 inches. The California king option is 85.5 inches by 73.75 inches by 13.5 inches. It can manage a maximum of 900 pounds.
Pros
Solid
Modern design
Simple to put together
Slats fully eliminate the need for box springs
It comes with the tools needed for the setup process
Cons
Some users mention that it makes persistent high-pitched sounds
---
Walmart Queen Bed Frame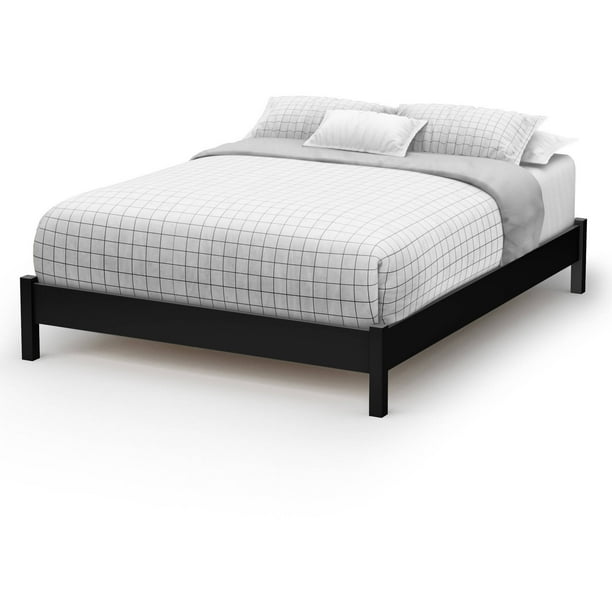 This is a sleek and simplistic bed frame that's equipped with nailheads. People who opt for this frame can pick between five appealing colors. Gray is one example. It features nailhead side panels.
This frame has a contemporary vibe and is close to the ground. Assembling it tends to be a swift and stress-free project. It can do a lot for people who want to enhance their bedrooms with fresh and cool ambiances.
It has a distinctive tufted headboard. Transporting this bed from point A to point B is in no way complex or tiring.
Since this is a remarkably hard-wearing bed frame, it can give users ample bodily support. It can promote a significant degree of relaxation.
There are some customers who wish that this frame was available in additional sizes.
Sizing
The queen bed frame weighs close to 5 pounds once it's completely assembled. It's 86 inches by 67 inches by 50 inches.
Pros
Contemporary design
Close to the ground
Stress-free assembly
Distinctive headboard
Easy to transport
Cons
Not available in multiple sizes
---
Walmart Full Bed Frame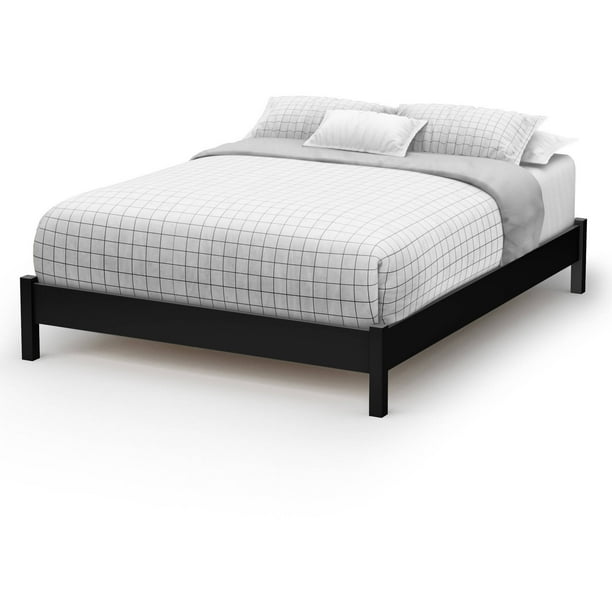 This is yet another inexpensive option for people who are trying to find bed frames that are simultaneously economical and powerful. It's a frame that does not come with a headboard.
This product is known for top-notch mattress support. It has wood slats that stop drooping. These slats boost mattress longevity, too.
It has plastic feet that have the ability to safeguard flooring from lasting and conspicuous damage.
The wooden slats are equipped with non-slip tape that stops unnecessary mattress motion from taking place at night. Assembling this product tends to be speedy.
It's something that people can generally do within minutes. People who buy this frame receive in-depth instructions and dependable tools alike.
Some users indicate that they occasionally have to retighten this bed frame. They have concerns about the frame collapsing to the ground after some time.
Sizing
The mattress platform is 14 inches tall. It's accessible in a number of different sizes. The smallest one is 7.68 by 3.74 by 74.2 inches. It weighs more than 35 pounds. The biggest one is 12.8 by 3.74 by 79.3 inches. It weighs close to 61 pounds.
Pros
Known for top-notch mattress support
The wood slats prevent drooping
Slats boost mattress longevity
Plastic feet have the ability to safeguard flooring from getting damaged
Non-slip tape stops mattress from moving at night
Cons
Some users say this bed frame needs occasional retightening
---
Best Walmart Bed Frames
Conclusion
We hope our review of the best Walmart bed frames will help you choose. For those looking for a natural bedroom design, our review of the best bamboo bed frames would be a great read.