Avocado Sheets Reviews
Updated: July 14th, 2020
Avocado offers premium sheets that will go a long way for people who want to revel in optimal relaxation. Read our review to find out if these sheets are worth the price.
Avocado Throw Blankets
Avocado Suvin Sheets
Avocado Cotton Sheets
Sizes Available
Twin, Twin XL, Full, Queen, King

Twin, Twin XL, Full, Queen, King, California King
Twin, Twin XL, Full, Queen, King, California King
Shipping
Free Shipping
Free Shipping
Free Shipping

Color

Sand
Dark Grey
Taupe
Camel
Sand/Natural
Grey/Natural

Natural
White
Grey
Seafoam Green
Natural

Warranty
1 Year
1 Year
1 Year
Reviews
Check Price →
Check Price →
Check Price →
We reviewed the best Avocado sheets so you can easily choose your favorite.
Let's dive right in!
Avocado throw blankets can go a long way for people who want to revel in optimal relaxation while in the comfort of their own homes.
These throw blankets are all-natural, too. They're enticing blankets that are the ideal combination of high-end and snug. It doesn't matter if you want to throw one of these things on your sofa in the living room.
It doesn't matter if you want to keep it on a daybed for afternoon naps, either. These throws can contribute to feelings of ease and joy.
They're sustainable as well. That's the reason they make fine interior design choices for people who care about the environment.
These throw blankets consist of top-notch fabrics. These materials are recycled cotton, organic cotton, cashmere and, last but definitely not least, merino wool. These products can introduce senses of refinement to any and all residential rooms.
They at the same time can contribute to atmospheres that are toasty and welcoming as can be. People can easily identify these blankets. That's due to the fact that they feature logos for the "Avocado" brand.
People who adore subtle tones may fall for these throws. They're knit and woven offerings that epitomize strength and resilience. They're completely devoid of chemicals that may be detrimental to humans in any way, shape or form. The hues are natural and do not have any dyes that are added. The colors involve metallic salts and dyes that are fully natural.
Note that some customers may want the brand name logo to be a bit less prominent.
Blanket Sizes
These blankets are 50 inches by 60 inches. They weigh anywhere between one and three pounds total.
---
Avocado's Suvin Sheets are exciting options for people who are on the lookout for first-class bedding. They're organic sheets that consist solely of Suvin Cotton straight from India.
This cotton has certification on its side as well. People who are passionate about cotton that isn't easy to acquire often adore Suvin.
These sheets are ideal for people who want 1,000 thread counts. They're just as ideal for folks who are keen on silky and deluxe textures. If you put these sheets in the washing machine, you'll notice marked textural enhancements time and time again. People who buy these offerings can get single fitted sheets, single flat sheets and even single pillowcases.
These sheets have undergone laboratory testing. That means that they have been evaluated and have no traces of detrimental toxins and substances at all.
People who are searching high and low for sheets that have remarkable tensile strength frequently gravitate to them. The same thing applies to people who are searching everywhere for sheets that have world-class Sateen finishes.
"Suvin Gold" is an Indian cotton that comes straight from Tamil Nadu. Tamil Nadu is the name of a state that's situated in the southern part of the South Asian country. This cotton typically isn't on hand on American soil.
Some users have pointed out the higher price tags that are associated with these sheets.
Maintenance Methods
Looking after these sheets well can be a piece of cake. People can wash them with colors that are similar. They can use water that's warm. It can be a good idea to utilize liquid detergent that's gentle.
People should steer clear of any and all fabric softeners, whiteners and bleaches.
Sheet Sizes
People can buy these organic cotton sheets in these sizes:
Twin
Full
Queen
King
Cal King
Standard and King sets for the pillow cases are accessible, too.
---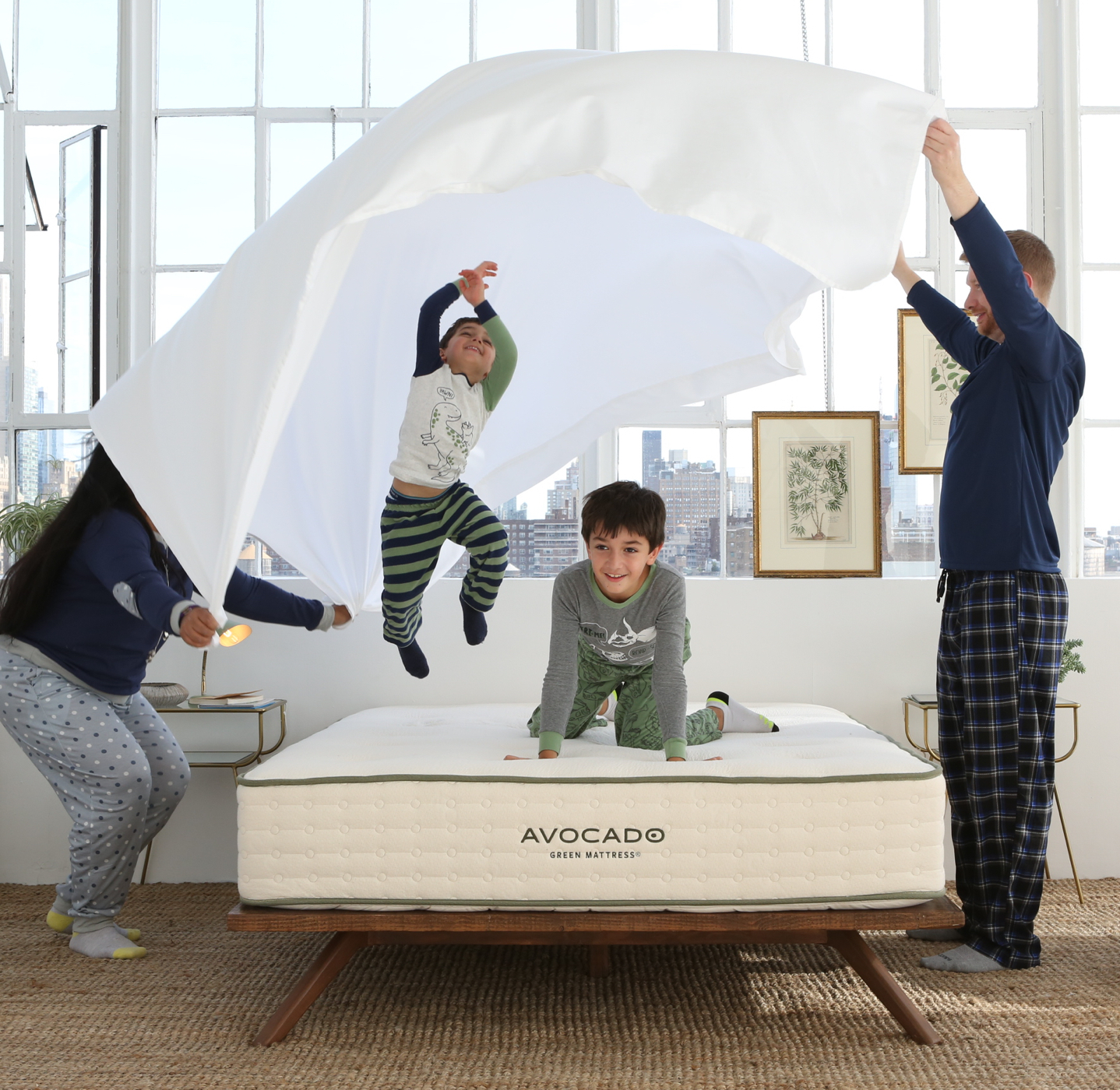 Avocado cotton sheets can do wonders for people who want to relish matchless senses of coziness while at home. These organic cotton sheets are not vulnerable to the development of unsightly wrinkles and crinkles at all.
That's why they can be optimal for people who want their bedding situations to always look immaculate. They're fully organic and are known for amazingly smooth and velvety textures.
Their Sateen finishes pave the way for radiance that's hard to ignore. People can get these sheets in high thread counts if they wish. They can pick between 600 and 400 ply weaves as they desire. These sheets consist of Indian certified cotton that has GOTS backing.
These sheets aren't toxic. They have certification from a trusted organization by the name of MADE SAFE. MADE SAFE conducts in-depth assessments that exclusively permit ingredients that are safe for animals, people and ecosystems overall.
This is a type of bedding that's renewable. This is a kind of bedding that doesn't hurt the environment or any of its residents. It differs from cotton that's traditional in a big way. Organic cotton is nothing like the "classic" stuff.
It hails from India and does not involve the cooperation of any fertilizers, herbicides or pesticides. That's how it can be helpful to average citizens all over the globe. That's also how it can be a major help to hard-working farmers everywhere.
Cons
Users sometimes have concerns that relate to sheet pricing. They sometimes want to have options in brighter and more striking sheet colors, too.
Colors Available
There are numerous exhilarating color choices accessible for people who are interested in these cotton sheets and all of their perks.
People can pick between gray, white and, last but certainly not least, "natural" colors.
Sizes Available
These sheets are accessible in the following sizes:
Twin
Full
Queen
King
California King
Conclusion
In short, Avocado offers premium sheets that will go a long way for people who want to revel in optimal relaxation. And since there are many sheets available, it's hard to know what's right for you. We hope to have made choosing easier by providing you with a few options.